Exotic Pet Veterinarian
in Westchester County, NY
Welcome to the Veterinary Center for Birds & Exotics. If you have been looking for specialized care for your bird or exotic pet, look no further! We have you covered. At our unique animal hospital, we provide care to birds and exotics ONLY—no cats and dogs! We are the only bird and exotic veterinary hospital with a full-time, board certified bird specialist, Dr. Laurie Hess. Dr. Hess, who, with her associate, Dr. Amanda Dewey, are the only full-time veterinarians in Westchester County who are residency-trained in bird and exotic medicine and surgery. Call to schedule an appointment for your pet!
We are the ONLY avian-specialty practice in New York to receive the distinguished accreditation from the American Animal Hospital Association. Give us a call today at (914) 864-1414.
What Sets Our Veterinary Bird & Exotic Pet Hospital Apart
At the Veterinary Center for Birds & Exotics, we provide comprehensive, cutting-edge care for birds and exotic pets in NY, CT, NJ, PA, and beyond. We utilize state-of-the-art technology, including digital x-rays, ultrasonography, CT scans, endoscopy, laser, and electrosurgery, providing the comprehensive care of a large hospital within the personalized setting of a small one.
Need to board your pet when you're away?
Learn about our exotic pet boarding service and accommodations, and reserve a spot with us! All of our boarding guests receive quality care and attention from our team. Spaces fill up quickly around summertime and on holidays, so get in touch with us as soon as possible!
We treat only birds and exotic pets at our animal hospital. Our patients include:
birds
rabbits
ferrets
guinea pigs
chinchillas
rats
mice
gerbils
hamsters
degus
reptiles
amphibians
sugar gliders
hedgehogs
mini pigs
wallabies
kinkajous
fennec foxes
opossums
chickens
ducks
and more!
How Our Veterinarians Are Different
Our veterinarians are board-certified by the American Board of Veterinary Practitioners (ABVP). They are also members of The Association of Avian Veterinarians (AAV), The Association of Exotic Mammal Veterinarians (AEMV), and The Association of Reptile and Amphibian Veterinarians (ARAV).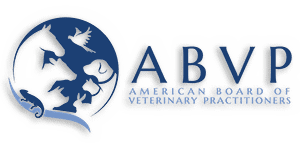 The importance of foraging and enrichment for your bird