Do Ferrets Need Vaccines?
Few of the exotic pet species that we see at The Veterinary Center require vaccinations, but ferrets are one of them. Ferrets are susceptible to rabies and canine distemper virus—two diseases that can be fatal if contracted, but which can be easily prevented with vaccines.
Rabies is mainly transmitted through contact with saliva from infected animals, usually through bite wounds. Because rabies has a high mortality and it can also affect humans, it is required by law in NY to vaccinate certain domestic animals (e.g. cats, dogs, and ferrets) against rabies. We recommend vaccinating young ferrets between 12-16 weeks, and then boostering the vaccine annually.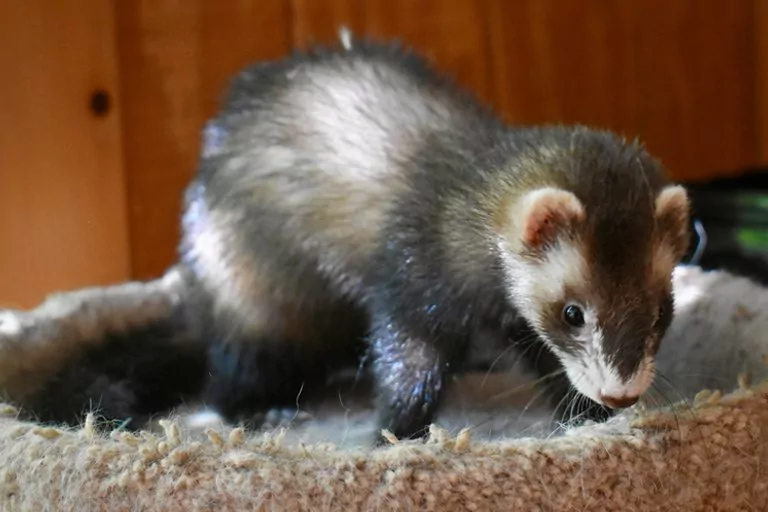 Ferrets can contract canine distemper virus through contact with infected respiratory secretions. The distemper virus initially causes respiratory signs such as coughing, as well as gastrointestinal signs such as vomiting and diarrhea. As the disease progresses, the affected ferret can experience neurological signs such as seizures or twitching. This disease is typically fatal, and death occurs 12–14 days after exposure. As a result, vaccination is highly recommended for ferrets starting at 6 to 8 weeks of age, with annual boosters.
Ferrets are more prone to vaccine reactions than cats and dogs; however, these are usually mild and can include discomfort at the injection site and vomiting or diarrhea. To help minimize the chance of vaccine reactions, we usually administer only one vaccine at a time, and we treat with an injection of Benadryl 15 minutes prior to the vaccine. After vaccinating, we monitor your ferret for 20-30 minutes to look for signs of possible vaccine reactions. While vaccine reactions are unpleasant, the lifesaving benefits of vaccines undeniably outweigh the risks, and can contribute to a long and healthy life for your ferret.
If you would like to get an appointment scheduled for your pet, please give us a call at (914) 864-1414!
Have You Heard About Lead Toxicity? Exposure to lead and other heavy metals can affect multiple body…
About Veterinary Centers for Birds and Exotics
If you have been looking for specialized care for your bird or exotic pet, look no further! We have you covered. At our unique animal hospital, we provide care to birds and exotics ONLY—no cats and dogs! We are the only bird and exotic veterinary hospital with a full-time, board certified bird specialist, Dr. Laurie Hess. Dr. Hess, who, with her two associates, Dr. Amanda Marino and Dr. Amanda Dewey, are the only full-time veterinarians in Westchester County who are residency-trained in bird and exotic medicine and surgery. Call to schedule an appointment for your pet!